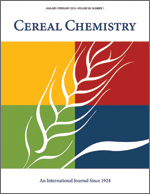 Cereal Chem 56:162 - 165. | VIEW ARTICLE
Effect of Protein Content and Wheat Variety on Relative Viscosity, Solubility, and Electrophoretic Properties of Gluten Proteins.

R. C. Butaki and B. Dronzek. Copyright 1979 by the American Association of Cereal Chemists, Inc.

Viscosity, solubility, and electrophoretic properties of glutens of four wheat varieties that differed in mixing strength (from weak to very strong) and bread-making potential were studied to determine the basis for intrinsic differences in the glutens. Relative viscosity values of glutens determined in a highly dissociating mixed solvent (0.01M acetic acid, 3M urea, 0.01M cetyltrimethyl-ammonium bromide) differed markedly between the weak and the very strong mixing varieties. The relative viscosity values decreased with the decreasing mixing strength of the flours. Treatment of the glutens with 2-mercaptoethanol lowered the relative viscosity values. Exhaustive extraction of glutens with 0.05N acetic acid showed that stronger mixing wheats had more insoluble gluten than did wheats with less mixing strength. Polyacrylamide gel electrophoresis of the reduced glutens in the presence of sodium dodecyl sulfate showed differences in the subunit patterns in the high molecular weight region.