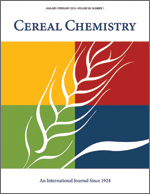 Cereal Chem 57:271 - 274. | VIEW ARTICLE
Lipid Content and Fatty Acid Composition of Free and Bound Lipids in Pearl Millets.

C. C. Lai and E. Varriano-Marston. Copyright 1980 by the American Association of Cereal Chemists, Inc.

Lipid content and fatty acid composition of pearl millets were studied. Free lipid content ranged from 5.55 to 7.08%, bound lipid content from 0.57 to 0.90%. Unsaturated acids averaged 70.3% of the free and 51.7% of the bound lipid fractions. Linoleic, oleic, and palmitic were the principal fatty acids in both free and bound lipids. Trace levels of myristic and behenic acids were found in the free lipids. Of the total bound lipids, 1.34-2.16% had an odd number of carbon atoms (C13:0, C15:0, and C17:0). The total percentage of long chain fatty acids (C20:0 and above) was greater for the bound than for the free lipids.