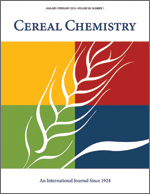 Cereal Chem 57:288 - 290. | VIEW ARTICLE
Note on the Effect of Reducing Agent on Zein Preparation.

C. Y. Tsai. Copyright 1980 by the American Association of Cereal Chemists, Inc.

Zein was extracted from ground endosperms or whole kernels with hot 70% ethanol or isopropanol. However, zein prepared with ethanol or isopropanol contained numerous aggregates on sodium dodecyl sulfate (SDS)-gels unless 2-mercaptoethanol was present during the process. Also, to facilitate maximum zein extraction from the ground samples, the presence of at least 1 mM of 2-mercaptoethanol in the alcohol extraction medium was required.