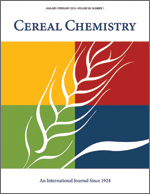 Cereal Chem 57:169 - 174. | VIEW ARTICLE
Effect of Potassium Bromate, Potassium Iodate, and L-Ascorbic Acid on the Consistency of Heated Dough.

K. Tanaka, S. Endo, and S. Nagao. Copyright 1980 by the American Association of Cereal Chemists, Inc.

The Do-Corder was used to investigate the effect of potassium bromate, potassium iodate, and L-ascorbic acid on dough mixed at high temperatures. The reagents were tested at a level of 1,200 ppm, based on flour. The Do-Corder curve generally showed two peaks at 75 and 85 C, which were assigned to the consistency effects of gluten and starch, respectively. The peak at 75 C was largely eliminated by addition of 1,200 ppm N-ethylmaleimide. Potassium bromate at 1,200 ppm also promoted starch consistency, as shown by the Do- Corder. Scanning electron microscopy and light microscopy of dough that had been heated and dried confirmed that bromate promoted gelatinization and swelling of starch.