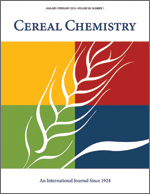 Cereal Chem 57:189 - 191. | VIEW ARTICLE
Environmental and Cultivar Effects on Oat Phytic Acid Concentration.

G. A. Miller, V. L. Youngs, and E. S. Oplinger. Copyright 1980 by the American Association of Cereal Chemists, Inc.

Groat phytic acid concentration (GPA) was measured in four oat cultivars grown from 1974 to 1977 at three Wisconsin locations. GPA averages for years and locations were significantly different among all four cultivars. Yearly differences in GPA were significant at some locations. Locational differences in GPA for a single year were significant only in the record drought year of 1976. Overall differences were small relative to the average GPA, except for those occurring in 1976. Cultivars ranked almost the same in GPA for overall years and locations, suggesting that their phytic acid production is similarly affected by environment. In addition, groat phosphorus was highly correlated with GPA.