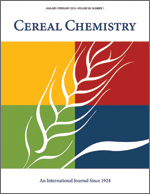 Cereal Chem 57:206 - 208. | VIEW ARTICLE
Aflatoxin: Distribution in Contaminated Corn Plants.

O. L. Shotwell, M. L. Goulden, C. W. Hesseltine, J. W. Dickens, and W. F. Kwolek. Copyright 1980 by the American Association of Cereal Chemists, Inc.

The kernels, cobs, husks, leaves, and stalks of 50 corn plants from a field heavily infested with Aspergillus flavus were analyzed for aflatoxin. The toxin was not detected in any of the analyzed parts of seven plants. Aflatoxin was detected in the kernels of 42 plants at levels of 2-18,300 micrograms/kg. The cobs of 24 plants, all of which had contaminated kernels, contained aflatoxin (range: 1-260 micrograms/kg). The toxin was detected at lower levels in husks (range: 1-91 micrograms/kg) of 29 plants, leaves (range: 2-70 micrograms/kg) of 19 plants, and stalks (range: 1-146 micrograms/kg) of 20 plants; all of these plants but one contained aflatoxin in the kernels. One plant had aflatoxin (5 micrograms/kg) only in the husks.