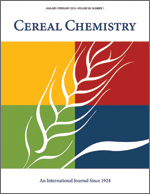 Cereal Chem 57:209 - 211. | VIEW ARTICLE
A Gas Chromatographic Method for the Determination of Acetic and Lactic Acid in Rye Sour.

J. Kratochvil and J. Holas. Copyright 1980 by the American Association of Cereal Chemists, Inc.

A rapid gas chromatographic method for the determination of acetic and lactic acid in rye sour is described. A neutralized aqueous extract of rye sour is prepared, and the acetic acid and ethanol contents are determined. Simultaneously, an aliquot of the extract is oxidized by excess of potassium permanganate in the presence of sulphuric acid. Acetic acid in the oxidized sample is determined. The lactic acid content is obtained when the acetic acid and ethanol contents in the original extract are subtracted from the acetic acid content in the oxidized extract. The described method cuts down the time of one complete analysis to one quarter of the time required by currently used esterification procedures.