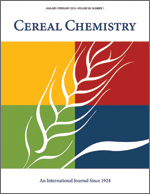 Cereal Chem 57:217 - 223. | VIEW ARTICLE
Some Factors Affecting the First Break Grinding of Canadian Wheat.

F. H. Hsieh, D. G. Martin, H. C. Black, and K. H. Tipples. Copyright 1980 by the American Association of Cereal Chemists, Inc.

Effects of tempering moisture, feed rate, roll gap, roll differential, and roll speed on the first break grinding of Canadian hard red spring wheat were investigated. Weight percentages, ash and protein (N x 5.7) contents of various streams from the first break rolls, and starch damage of the first break flour were examined. Although the first break release increased with increase in tempering moisture and roll differential and decrease in roll gap, its change with either feed rate or roll speed was not significant. Ash and protein contents of the various streams, with the exception of overtails, decreased with increasing tempering moisture or decreasing roll differential or roll gap. Starch damage in break flour increased significantly with increasing roll differential. Narrower roll gap caused a slight decrease in starch damage. Tempering moisture, feed rate, and roll speed had little or no effect on starch damage.