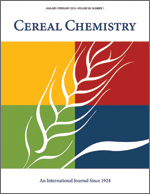 Cereal Chem 57:236 - 238 . | VIEW ARTICLE
A Physical Method for the Segregation of Aflatoxin-Contaminated Corn.

W. E. Huff. Copyright 1980 by the American Association of Cereal Chemists, Inc.

Two lots of corn differing in the degree of aflatoxin contamination (527 and 3,317 ppb) were used to evaluate a process to separate aflatoxin-contaminated from uncontaminated corn. The two lots were segregated into buoyant and nonbuoyant portions in water and in three sucrose solutions (20, 30, and 40%). Removing corn buoyant in water resulted in a 60% reduction in the level of aflatoxin through the removal of 22% of the corn. Improved ability to segregate aflatoxin-contaminated from uncontaminated corn was exhibited through the graded increase in densities of the sucrose solutions. Removing 53% of the corn with 40% sucrose reduced the aflatoxin level by approximately 90%. These data show that aflatoxin- contaminated and uncontaminated corn differ in density. This difference in density may have practical application in aflatoxin detection and in separation of contaminated from uncontaminated corn.