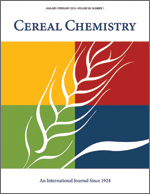 Cereal Chem 57:242 - 248. | VIEW ARTICLE
Comparison of Methods to Determine Starch Gelatinization in Bakery Foods.

E. Varriano- Marston, V. Ke, G. Huang, and J. Ponte, Jr. Copyright 1980 by the American Association of Cereal Chemists, Inc.

Data from viscosity, enzymatic (using glucoamylase), and crystallographic methods for determining starch gelatinization and swelling in bakery foods were compared. Results from x-ray diffraction, polarization microscopy, and enzymatic methods complemented each other. However, crystallographic methods were not as sensitive to small changes in the degree of swelling as was the enzymatic method. In fact, for low moisture products, eg, sugar cookies, at least 11% gelatinization (from glucoamylase) could be present without substantially altering the x-ray pattern or intensity. The amylographic method for determining starch swelling in bakery foods was the least reliable.