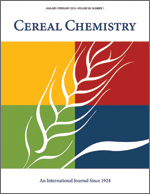 Cereal Chem 58:293 - 295. | VIEW ARTICLE
Comparison of Controlled-Release Ammonia Solutions and Aqueous Ammonia for Preserving High-Moisture Maize.

J. E. Van Cauwenberge, R. J. Bothast, and D. C. Young. Copyright 1981 by the American Association of Cereal Chemists, Inc.

Controlled-release ammonia solutions(3) were compared with aqueous ammonia as preservatives for high- moisture maize. The release solutions were composed of ammonia, urea, biuret, and urease enzyme. These components were combined in such a way that immediate, slow, and very slow ammonia release was possible. Freshly harvested, high-moisture (25%) yellow dent maize was treated in each of two trials. The total weight of ammonia was 0.2% of the total weight of maize in trial A and 0.8% in trial B. An initial free ammonia concentration near 0.16% (weight of NH3 per weight of maize) was necessary to prevent microbial deterioration at the beginning of storage. Consequently, the controlled-release ammonia solutions applied in trial A were ineffective. However, at the higher treatment level of trial B, these solutions controlled microbial deterioration three times longer than did the aqueous ammonia solution, from which all ammonia was available immediately.