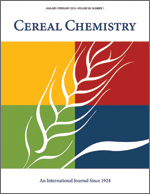 Cereal Chem 58:295 - 299. | VIEW ARTICLE
Heat Sink Reference Oven.

R. H. Kilborn and K. H. Tipples. Copyright 1981 by the American Association of Cereal Chemists, Inc.

A "heat sink" oven or chamber for standardizing test baking conditions in ovens of different design is described. The totally enclosed chamber of specified dimensions provides fixed conditions of moisture and air movement, and the moderating or damping effect of the heat sink on the rate of heat transfer from the oven in which it is placed allows close specification of baking conditions. Bread was baked in ovens of different design with and without the heat sink. Control point, environment, and internal loaf temperatures were monitored on a recorder, and bread properties were examined. The range in loaf volume for loaves baked in the heat sink was narrower than that obtained when loaves were baked under normal operating conditions in different ovens, and replication was improved. The heat sink oven may be useful in resolving one of the major sources of variability when a reference baking method is used in different laboratories with different ovens.