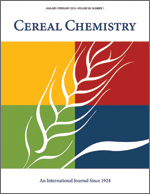 Cereal Chem 58:311 - 313. | VIEW ARTICLE
Extraction of Unreduced Glutenin from Wheat Flour with Sodium Dodecyl Sulfate.

G. Danno. Copyright 1981 by the American Association of Cereal Chemists, Inc.

Glutenin from wheat flour was almost completely extracted with 0.5% sodium dodecyl sulfate (SDS), pH 7.0, without prior reduction of its disulfide bonds. Wheat flour was first extracted with 0.05M sodium phosphate, pH 7.0, containing 0.5% SDS at a 1:20 flour/solvent ratio. About 77% of the total flour nitrogen solubilized into the clear solution. The remaining proteins in the residue, mainly glutenin, were almost completely extracted by the second extraction with 0.5% SDS, pH 7.0, by stirring with a Waring Blendor for 2 min. No foam was produced by this procedure. This extraction procedure may be useful as a simple and rapid method for separation of glutenin.