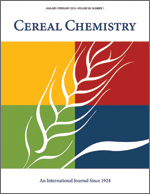 Cereal Chem 58:97 - 100. | VIEW ARTICLE
Effects of Addition of Great Northern Bean Flour and Protein Concentrates on Rheological Properties of Dough and Baking Quality of Bread.

S. K. Sathe, J. G. Ponte, Jr., P. D. Rangnekar, and D. K. Salunkhe. Copyright 1981 by the American Association of Cereal Chemists, Inc.

Proteins from the Great Northern bean (Phaseolus vulgaris L.) were concentrated. The rheological and baking properties of a blend of wheat flour and protein concentrates were compared with those of a blend of wheat flour and bean flour. Addition of the bean flour or protein concentrates to wheat flours caused an increase in water absorption and a decrease in mixing time, dough stability, and mixograph peak height. Load-extension curves for wheat flour/bean flour blends indicated a decreased resistance to extension with increased concentration of the bean flour. For a fixed bean flour level in the blend, however, resistance to extension increased with an increase in resting time. Addition of the bean flour at levels above 10% was detrimental to the dough and bread quality. Breads prepared with added protein concentrates (less than or equal to 10%) were more acceptable than those prepared with added bean flour (less than or equal to 10%), however.