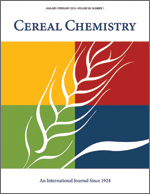 Cereal Chem 58:130 - 135. | VIEW ARTICLE
Microchemical Detection of Niacin, Aromatic Amine, and Phytin Reserves in Cereal Bran.

R. G. Fulcher, T. P. O'Brien, and S. I. Wong. Copyright 1981 by the American Association of Cereal Chemists, Inc.

Methods are described for microscopic detection of niacin, aromatic amines (possibly aminophenol), and phytin in mature cereal grains. Niacin and amino compounds are detected by fluorescence microscopy after reacting tissue sections with cyanogen bromide or dimethylaminobenzaldehyde, respectively. Phytin is readily demonstrated by polarizing optics or metachromatic staining with toluidine blue. Phytin crystals are found in the protein bodies (aleurone grains) of both the scutellar parenchyma and the aleurone layer. Niacin and aromatic amines occur only in the protein bodies of the aleurone layer.