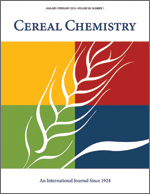 Cereal Chem 58:135 - 138. | VIEW ARTICLE
Changes of Starch, Crude Fiber, and Oligosaccharides in Germinating Dry Beans.

M. E. O. Labaneiah and B. S. Luh. Copyright 1981 by the American Association of Cereal Chemists, Inc.

The effect of germination at 22 C on changes in carbohydrate components of red kidney, Gloria pink, and black eye dry beans was investigated. Starch, amylose, and amylopectin decreased gradually during the six- day sprouting period. The ratio of amylose to amylopectin also decreased during germination. Acid detergent fiber, cellulose, and lignin in the sprouts did not change appreciably during germination. The red kidney and Gloria pink varieties were higher in acid detergent fiber and cellulose contents than were the black eye beans. High pressure liquid chromatography was used to determine quantitative changes of oligosaccharides in the germinating beans. During the preliminary soaking period of 14 hr, an appreciable loss of sucrose, raffinose, and stachyose took place as a result of diffusion. The levels of raffinose and stachyose continued to decrease during germination. They disappeared after six days of germination in the Gloria pink and black eye beans. Sucrose increased in the four-day sprouts.