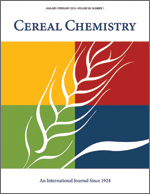 Cereal Chem 58:138 - 141. | VIEW ARTICLE
Eastern Gama Grass. Seed Structure and Protein Quality.

L. S. Bates, M. Bender, and W. Jackson. Copyright 1981 by the American Association of Cereal Chemists, Inc.

Seed structure, starch grains, and protein granules of eastern gama grass, Tripsacum dactyloides (L.) L., were examined with scanning electron microscopy, Nomarski interference contrast, and polarizing light microscopy. The embryo and aleurone layer were similar to those of maize (Zea mays L.). Starch grains and protein granules were only one-tenth as large as those of maize and ranged from 1.3 to 1.8 micrometer and from 0.05 to 0.12 micrometer, respectively. Amino acid analyses were compared to those of normal yellow dent hybrid maize, opaque-2 maize, and literature reports of maize inbred lines and a line nearly isogenic for the floury-2 mutant. Basic amino acids and cystine were low and methionine high compared to their levels in maize. Potential uses of gama grass are suggested.