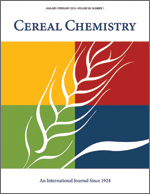 Cereal Chem 58:142 - 144. | VIEW ARTICLE
Counteracting the Deleterious Effects of Fiber in Breadmaking.

M. D. Shogren, Y. Pomeranz, and K. F. Finney. Copyright 1981 by the American Association of Cereal Chemists, Inc.

Blends of wheat flour and wheat, corn, or soybean bran or coconut residue were baked into bread. The deleterious effects of up to 15 parts of wheat bran per 85 parts of wheat flour could be largely counteracted with the addition of vital gluten and one of several surfactants alone or in combination with shortening. Surfactants included diacetyl tartaric acid esters (DAT), ethoxylated monoglycerides (EMG), lecithin, sucrose monopalmitate (SMP), and sodium stearoyl-2-lactylate. In the absence of shortening, 1 g each of DAT, EMG, or SMP per 100 g of mixture materially increased loaf volume beyond the level produced by 3 g of shortening. In the presence of 3 g of shortening per 100 g of mixture, adding 0.5 g of DAT, EMG, lecithin, SMP, or sodium stearoyl-2-lactylate produced only small improvements above the levels produced when shortening alone was added.