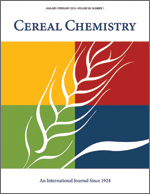 Cereal Chem 59:5 - 8. | VIEW ARTICLE
Hardness of Pearl Millet and Grain Sorghum.

A. de Francisco, E. Varriano-Marston, and R. C. Hoseney. Copyright 1982 by the American Association of Cereal Chemists, Inc.

The hardness of various populations of pearl millet and cultivars of grain sorghum was determined by particle size analysis after the grains were milled on attrition and roller mills. Millets grown in Sudan were, in general, softer than Kansas-grown ones. However, kernel vitreousness did not parallel grain hardness as determined by particle size analysis. Furthermore, tempering either millet or sorghum before milling shifted the particle distribution to larger sizes compared with those of nontempered samples.