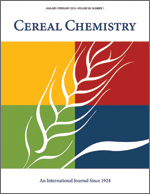 Cereal Chem 59:34 - 37. | VIEW ARTICLE
Production of High-Protein Quality Pasta Products Using a Semolina/Corn/Soy Flour Mixture. III. Effect of Cooking on the Protein Nutritive Value of Pasta.

M. R. Molina, H. Gudiel, M. A. Baten, and R. Bressani. Copyright 1982 by the American Association of Cereal Chemists, Inc.

Pasta products were prepared from semolina and from semolina replaced at the 20, 40, 60, and 75% levels by whole corn flour processed in a double drum drier at 143 C surface temperature. From these mixtures, spaghetti was prepared with and without either 0.3% L-lysine or 8% defatted soy flour. A test of resistance to disintegration and organoleptic evaluation indicated that quality decreased significantly (P less than 0.05) when the semolina in the blend was lower than40 and 32%, respectively. A significant (P less than 0.05) correlation (r = -0.93) was found between solids lost through cooking and organoleptic evaluation score. After cooking, all products showed increased nitrogen content. Cooking decreased significantly (P less than 0.05) the total and available lysine and the protein quality of the L-lysine-supplemented products, but it caused an increase in the percentage of available lysine in the soy-supplemented and unsupplemented products and therefore improved the protein nutritive value. A significant (P less than 0.01) positive correlation (r = 0.98) was found between the available lysine content and the protein nutritive value of the products.