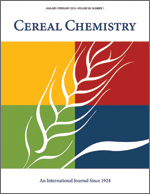 Cereal Chem 59:41 - 45. | VIEW ARTICLE
Experimental Milling of Soft Wheat Cultivars and Breeding Lines.

W. T. Yamazaki and L. C. Andrews. Copyright 1982 by the American Association of Cereal Chemists, Inc.

A four-stand Allis Chalmers experimental mill was modified to improve precision in milling soft wheat and was then used to compare three milling procedures. A six-break, variable-roll, variable reduction-pass system was found to be best suited to accommodate the diverse types of soft wheat cultivars and breeding lines. A milling characteristic termed endosperm separation index, which appeared to be a measure of ease of separation of endosperm and bran, was found to be associated with yield of straight-grade flour.