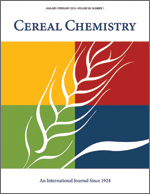 Cereal Chem 59:389 - 392. | VIEW ARTICLE
Development of a Laboratory-Scale Single-Stage Cake Mix.

C. C. Lee, R. C. Hoseney, and E. Varriano-Marston. Copyright 1982 by the American Association of Cereal Chemists, Inc.

Grinding the fat system with the dry ingredients gave a cake mix that produced a lower batter specific gravity but a higher cake volume than that obtained with the same formula but without grinding. Grinding in a Stein mill apparently can replace the action of a cake finisher. Performance of the fat-emulsifier system was improved by cooling the melted mixture at 10 C. Crystal size of the emulsifier-fat blend and its performance in reducing specific gravity did not appear to be directly related. The amount of emulsifier in the blend was of equal or greater importance. Adding xanthan gum improved cake volume.