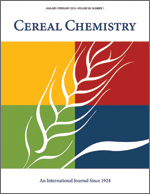 Cereal Chem 59:63 - 69. | VIEW ARTICLE
Effect of Smudge and Blackpoint, Mildewed Kernels, and Ergot on Durum Wheat Quality.

J. E. Dexter and R. R. Matsuo. Copyright 1982 by the American Association of Cereal Chemists, Inc.

Farm samples from the 1979 and 1980 Canadian durum wheat crops were handpicked to yield a series of controls and samples enriched by varying degrees in smudge and blackpoint, mildewed kernels, and ergot bodies. The most important effect of smudge and blackpoint and of mildewed kernels was an undesirable increase in semolina speckiness. Spaghetti color also deteriorated slightly, particularly from mildewed kernels. Levels of ergot bodies within the legally tolerated limits for Canadian durum wheat caused an increase in semolina speckiness. At higher levels of ergot, spaghetti color deteriorated rapidly and milling yield decreased. Spaghetti cooking quality did not appear to be affected by any of the degrading factors examined.