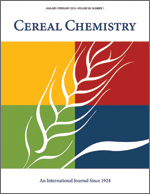 Cereal Chem 59:72 - 73. | VIEW ARTICLE
Note: Laboratory Dough Molder for Flat Breads.

G. L. Rubenthaler and H. A. Faridi. Copyright 1982 by the American Association of Cereal Chemists, Inc.

Because a major factor influencing the quality of Middle-Eastern style flat breads baked is the thickness to which the dough is rolled in preparation for baking, a molder was designed and constructed to minimize this factor in laboratory testing. The molder is adjustable from 0 to 12 mm, in increments of 0.01 mm, and therefore is usable in preparing doughs for all flat breads.