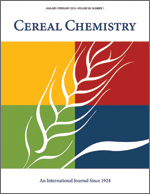 Cereal Chem 60:7 - 8. | VIEW ARTICLE
Effect of Heat-Moisture Treatment on Textural Characteristics of Cassava Flour.

T. E. Abraham, K. C. M. Raja, E. P. Manoharan, and A. G. Mathew. Copyright 1983 by the American Association of Cereal Chemists, Inc.

Modification studies were performed using cassava cultivar Malayan-4. After conditioning, plain and parboiled flours were subjected to open-pan roasting and pressure steaming. Viscosity and textural characteristics of the samples were then compared. Texture improved significantly only in the parboiled flour, which was open-pan roasted after the moisture level was adjusted to 28 +/- 2%. A comparative study of plain and parboiled dry cassava cubes showed that compressive strength increased 10 times more in the parboiled cubes than in the plain cubes.