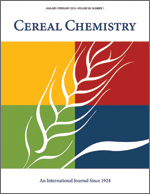 Cereal Chem 60:9 - 11. | VIEW ARTICLE
Characterization of Quinoa Starch.

W. A. Atwell, B. M. Patrick, L. A. Johnson, and R. W. Glass. Copyright 1983 by the American Association of Cereal Chemists, Inc.

Quinoa (Chenopodium quinoa Willd.) is a cereal crop grown in the mountainous regions of South America. Starch was extracted by two extraction schemes that varied primarily in the amount of agitation. The harsher treatment yielded polygonal granules 1-2.5 micrometers in diameter that gelatinized from 57 to 64 C. Analysis of the components indicated 11% amylose, a CL of 27, and a bimodal distribution of amylopectin chain lengths. Differential scanning colorimetry data indicated a heat of gelatinization of 4.03 cal/g of dry starch. Scanning electron microscopy of the products of a milder isolation treatment revealed primarily a large oval species composed of hundreds of the individual granules. Light microscopy of thin- sectioned quinoa seeds indicated that several of these composite aggregates exist within each endosperm cell.