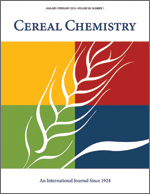 Cereal Chem 60:12 - 14. | VIEW ARTICLE
Effect of Grain Size on Dehulling of Sorghum.

R. B. H. Wills and M. R. Ali. Copyright 1983 by the American Association of Cereal Chemists, Inc.

Ungraded and sized grain (less than 4.00 mm; less than 3.35 and less than 2.80 mm, respectively) of 28 sorghum cultivars were dehulled by abrasion for 60 sec. The milling recovery varied between cultivars but generally ranged from 80 to 90%. The milling recovery was higher for grain less than 2.80 mm than for grain less than 3.35 mm, and grain less than 4.00 mm gave the lowest recovery. The recovery of ungraded grain did not follow a trend but often gave yields lower than what would be expected from the average size. The amount of unbroken kernels in the milled fraction also varied with grain size, with the average amounts obtained for less than 2.80-, less than 3.35-, and less than 4.00-mm grain being 84, 78, and 72%, respectively. Broken kernels accounted for most of the damaged grain, with only a small proportion of degermed kernels present. For optimal yields during dehulling, cultivars with grain of nonuniform size should be segregated into different sizes and each size grade dehulled for different times.