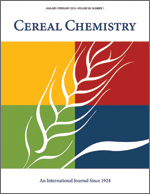 Cereal Chem 60:14 - 18. | VIEW ARTICLE
Relative Bioavailability of Magnesium from Mineral- and Soy-Fortified Breads.

G. L. Winterringer and G. S. Ranhotra. Copyright 1983 by the American Association of Cereal Chemists, Inc.

Effects of expanded fortification on the bioavailability of magnesium in bread were examined. Bioavailabilities were calculated using regression equations (based on serum and femur magnesium contents) developed with nonbread diets. Wheat flour provided 55% of the magnesium in test breads. The remaining magnesium (45%) was supplied by magnesium carbonate, alone or in combination with defatted soy flour. No pattern emerged that suggests that magnesium from a single source (wheat, soy, or magnesium carbonate) is more bioavailable. This may be due, in part, to the absence of any striking differences in magnesium absorption from test breads or in fiber excretion patterns of rats.