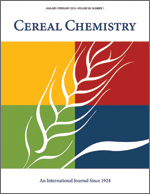 Cereal Chem 60:260 - 263. | VIEW ARTICLE
In Vitro Inhibition of Digestive Enzymes by Indigestible Polysaccharides.

K. Ikeda and T. Kusano. Copyright 1983 by the American Association of Cereal Chemists, Inc.

The influence of indigestible polysaccharides on the activities of digestive enzymes was studied. Trypsin was considerably inhibited after in vitro incubation with xylan, apple pectin, or buckwheat hemicellulose. Xylan, sodium alginate, and yeast mannan exerted a pronounced in vitro inhibitory effect on the activity of alpha-chymotrypsin. Apple pectin and carboxymethyl cellulose sodium salt had potent inhibitory activity against alpha-amylase, and apple pectin alone towards pepsin. Agar-agar caused a significant loss of steapsin activity. Kinetic analyses showed that pectin and xylan were parabolic noncompetitive inhibitors against trypsin. Pectin was also shown to combine easily with the substrate protein under slightly alkaline conditions. These results showed that the inhibition of trypsin activity by pectin and xylan resulted from their binding with the substrates.