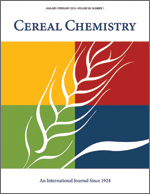 Cereal Chem 60:268 - 270. | VIEW ARTICLE
Lodging Effects on Yield and Quality of Soft White Wheat.

F. V. Pumphrey and G. L. Rubenthaler. Copyright 1983 by the American Association of Cereal Chemists, Inc.

Intensive management expected to produce higher grain yields has resulted in occasional early lodging of soft white wheat (Triticum aestivum L.). Standing and lodged wheats were sampled in fields where lodging occurred before or during head emergence. Grain yield and test weight were determined and milling and baking characteristics of the grain evaluated. Lodged wheat yielded 1,440 kg/ha less grain than standing wheat. Grain from lodged wheat averaged 6 kg/hl lower in test weight and had consistently lower milling scores. Slower feeding into the mill, lower flour yield, higher ash in the flour, and greater water absorption by the flour contributed to the lower milling score. Observed and corrected diameters of cookies baked from grain of lodged wheat were consistently smaller than those of cookies baked from grain of standing wheat.