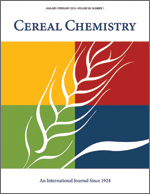 Cereal Chem 60:270 - 275. | VIEW ARTICLE
Wheat and Composite Flour Chapaties: Effects of Soy Flour and Sucrose-Ester Emulsifiers.

S. E. Ebeler and C. E. Walker. Copyright 1983 by the American Association of Cereal Chemists, Inc.

Chapaties, which are thin, steam-leavened breads often made from sorghum or millets, represent a major portion of the diet for people in the semiarid tropics. A simple laboratory method was developed to measure the effect of the addition of soy flour and emulsifiers upon chapaties baked from wheat, sorghum, pearl and proso millets, corn, and soy flours obtained from commercial sources and from those produced in U-D and Brabender Quadrumat Jr. mills. Various flours and their blends were judged subjectively for dough handling and puffing characteristics, and chapati color was determined with a Hunter color difference meter. The Instron testing machine was used to measure tenderness. A simple response surface methodology technique was used to interpret experimental results. Visual scores and Instron shear-force values decreased approximately linearly with percent nonwheat flour. Sucrose-ester emulsifiers did not improve dough-handling characteristics or tenderness of the finished product.