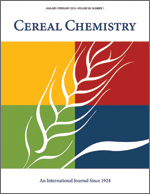 Cereal Chem 60:276 - 280. | VIEW ARTICLE
Physical and Biochemical Properties of Wheat Protein Fractions Obtained by Ultracentrifugation.

B. L. Jones, K. F. Finney, and G. L. Lookhart. Copyright 1983 by the American Association of Cereal Chemists, Inc.

Gluten proteins were hand-washed from hard winter wheat flours of good (RBS-76) and poor (76-412) bread-making quality, solubilized in 0.0045-0.0050N lactic acid, and separated into four fractions by ultracentrifugation. The four fractions were a brown rubbery pellet, an off-white gel, a colorless viscous layer, and a clear supernatant. The relative sedimentation rates and yields of the fractions were studied. Centrifugation conditions were adjusted so that the ratio of protein in the combined pellet and gel fractions to that in the combined viscous layer and supernatant fractions was about 48:52 for both flours. The sedimentation rates of the different fractions varied greatly within each flour. The sedimentation rates of the fractions differed materially between the two flours. Sodium dodecyl sulfate polyacrylamide gel electrophoresis patterns showed that the average size of the proteins in each of the four fractions increased progressively from the supernatant to the pellet fractions. Removing the total free lipids from the flours before washing out and dissolving the glutens increased the sedimentation rate of the pellet fraction of 76- 412 gluten, but did not affect that of any of the RBS-76 gluten fractions.