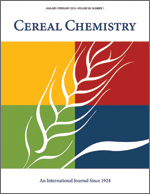 Cereal Chem 60:281 - 286. | VIEW ARTICLE
Purification and Characterization of Three Trypsin Inhibitors from Beans, Phaseolus vulgaris, 'Kintoki.

' I. Tsukamoto, M. Miyoshi, and Y. Hamaguchi. Copyright 1983 by the American Association of Cereal Chemists, Inc.

At least five trypsin inhibitors exist in kintoki beans, and we purified three of these by chromatofocusing. The three inhibitors, all of which lacked carbohydrate, were characterized by high contents of aspartic acid, serine, and cystine and by the absence of tryptophan. Inhibitors 2 and 4 formed a 1:1 enzyme-inhibitor complex with trypsin ahd chymotrypsin. Modification with trinitrobenzenesulfonic acid of the amino groups in inhibitors 2 and 4 caused nearly complete loss of trypsin inhibitory activity, but chymotrypsin inhibitory activity was not affected. The ternary complex among trypsin, inhibitor, and chymotrypsin, demonstrated by chromatography, indicated two distinct sites for trypsin and chymotrypsin in both inhibitors 2 and 4. Inhibitor 5 inhibited only trypsin. The result of modifications with trinitrobenzenesulfonic acid and glyoxal indicated that arginine residue is essential for trypsin inhibitory activity of inhibitor 5. The activity of inhibitors 2, 4, and 5 was not affected by heating (100 C, 60 min), exposure to low pH (pH 2), or reaction with pepsin.