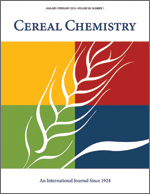 Cereal Chem 60:295 - 297. | VIEW ARTICLE
Evaluation of Distillers' Dried Grain Flour as a Bread Ingredient.

C. C. Tsen, J. L. Weber, and W. Eyestone. Copyright 1983 by the American Association of Cereal Chemists, Inc.

The potential use of distillers' dried grain flour (DDGF) as an ingredient for preparing grain-type breads was studied. Two DDGF samples, designated as DDGF-B and DDGF-F and representing typical dark and light DDGF samples collected from distillers, were used in this study. When wheat flour was supplemented with DDGF-B or DDGF-F at a 10 or 20% (w/w) replacement level and mixed into dough with water, the replacement reduced dough development time and stability. Breads supplemented with 10% DDGF-B or DDGF-F were superior to whole wheat bread in loaf volume, crumb grain, and color. They contained less ash and fiber than whole wheat bread, but far more than white bread. The supplemented breads had about the same amount of protein and fat as whole wheat bread. They compared favorably with white bread in softness during storage for one, three, and five days. However, they retained softness much better than did whole wheat bread.