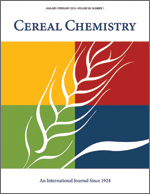 Cereal Chem 60:301 - 305. | VIEW ARTICLE
Bread Staling Studies. II. The Role of Refreshening.

W. Pisesookbunterng, B. L. D'Appolonia, and K. Kulp. Copyright 1983 by the American Association of Cereal Chemists, Inc.

Refreshening studies of breads with and without surfactants were conducted. Breads stored at 2 and 30 C were refreshened by heating at 90 C for 45 min. Those stored at 2 C for two days and refreshened regained the original firmness. Breads refreshened two and three times, however, did not revert to their original firmness. Refreshening of breads kept at 30 C resulted in only partial recovery of the firmness of fresh bread. Surfactants (sodium stearoyl lactylate and Atmul 500) were helpful in restoring original freshness. Breads kept at 2 C for two and four days could be restored to original firmness by first and second refreshenings; at 30 C, original firmness was only partially recovered. Firmness data are supported by organoleptic tests, X-ray diffraction patterns, and soluble starch data.