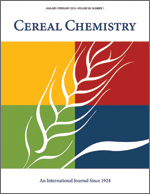 Cereal Chem 60:311 - 314. | VIEW ARTICLE
Separation of Barley Malt Alpha-Amylase by Chromatofocusing.

B. A. Marchylo and A. W. MacGregor. Copyright 1983 by the American Association of Cereal Chemists, Inc.

Chromatofocusing was used to resolve green malted barley alpha-amylase into individual components. Five peaks were eluted at 4 C, whereas four peaks were eluted at room temperature (22 C). Analysis of eluent fractions by polyacrylamide gel isoelectric focusing showed that the alpha-amylase III fraction was converted to a specific alpha-amylase II component under chromatofocusing conditions. Evidence for interconversion of alpha-amylase II components also was obtained by chromatofocusing and polyacrylamide gel isoelectric focusing analysis.