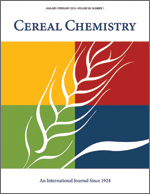 Cereal Chem 60:327 - 329. | VIEW ARTICLE
Note: Barley Starch. VII. New Barley Starches with Fragmented Granules.

B. W. DeHaas and K. J. Goering. Copyright 1983 by the American Association of Cereal Chemists, Inc.

Franubet and Wafranubet are new barley varieties characterized by small, fragmented starch granules. Pasting characteristics and other properties of the starches were compared with those of Betzes and Nubet starches. The Franubet and Wafranubet starches are more resistant to attack by alpha-amylase than are barley starches with normal granule configurations. Both starches show normal swelling power, but waxy starches such as that from Wafranubet usually have higher swelling power values.