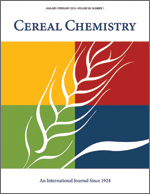 Cereal Chem 60:350 - 355. | VIEW ARTICLE
Mycotoxin and Odor Formation in Barley Stored at 16 and 20% Moisture in Manitoba.

D. Abramson, R. N. Sinha, and J. T. Mills. Copyright 1983 by the American Association of Cereal Chemists, Inc.

Half-bushel parcels of barley at 16 and 20% moisture content (MC) were placed inside bulks of dry stored oats in a farm granary for 66 weeks so that we could study quality changes. Temperature, moisture, O2 and CO2 levels, microfloral incidence and abundance, seed germination, free fatty acids, mycotoxins (aflatoxins, sterigmatocystin, ochratoxin A, citrinin, penicillic acid, and patulin), and volatiles in the intergranular air were monitored biweekly and at longer intervals during storage. In the 20% MC barley, ochratoxin A was detected by six weeks and sterigmatocystin by 20 weeks. In 16% MC barley, sterigmatocystin was detected by week 62 but no ochratoxin was found; levels of sterigmatocystin were less than a third of those in 20% MC barley. No other mycotoxins were detected. Penicillium verrucosum var. cyclopium was associated with production of ochratoxin A. Aspergillus versicolor and species of the A. glaucus group were found in samples containing sterigmatocystin in both 16 and 20% MC barley. The total volatiles reached maximum levels by week 6 and then decreased. The fungal volatiles 3-methyl-1-butanol, 3-octanone, 1-octanol, and 1-octan-3-ol were detected in the 16% MC barley. Except for 1-octan-3-ol, these were also detected in the 20% MC barley, which produced total volatiles at consistently higher levels. Barley stored at 20% MC was characterized by higher temperature, moisture content, fungal propagules, CO2, free fatty acids, total volatiles, and lower levels of germination and O2 as compared to 16% MC barley.