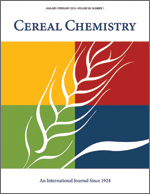 Cereal Chem 60:367 - 370. | VIEW ARTICLE
Effects of Soy or Field Pea Flour Substitution on Physical and Sensory Characteristics of Chemically Leavened Quick Breads.

M. A. Raidl and B. P. Klein. Copyright 1983 by the American Association of Cereal Chemists, Inc.

The effects of substituting 5, 10, and 15% field pea or defatted soy flour for wheat flour in a chemically leavened quick bread on physical characteristics of batters and breads, and sensory characteristics of breads were studied. Significant differences were observed for batter linespread consistency, loaf volume, darkness, and yellowness values of bread crumbs. No significant differences in redness values or compressibility were seen. A sensory evaluation panel found significant differences among loaves at some substitution levels for the following characteristics: crust color, air cell number, crumb color and color uniformity, and flavor (odor and taste). No significant differences were found among loaves for shape, crust thickness, surface texture, crust texture, crumb texture, tunnels, and mouthfeel. Results indicate that defatted soy flour can be successfully substituted for wheat flour in quick breads at levels up to 15%, whereas at the same substitution levels, field pea flour had adverse effects on both physical and sensory characteristics.