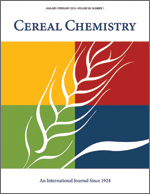 Cereal Chem 60:388 - 391. | VIEW ARTICLE
Quality of Corn Grain from Plants Exposed to Chronic Levels of Ozone.

W. J. Garcia, J. F. Cavins, G. E. Inglett, A. S. Heagle, and W. F. Kwolek. Copyright 1983 by the American Association of Cereal Chemists, Inc.

Whole kernel corn, derived from field-grown corn plants that had been exposed to ambient ozone at chronic concentration levels, was examined to determine the effects of the stress imposed on the edible grain. Initially, the study examined the composition of the grain from a commercial field corn hybrid exposed to five levels of ozone ranging from 0.02 to 0.15 ppm. A second phase also included two other open-pedigreed hybrids that were more sensitive to ozone but in this case were exposed at three levels of ozone---0.02, 0.06, and 0.15 ppm. Stress effects from ozone were more readily manifested in the vegetative plant at lower levels of ozone than in the grain. Compositional changes in the grain recovered from plants exposed to all levels of ozone studies were minor for protein, amino acids, fat, fiber, ash, starch, and amylose content of starch. Essentially no difference in macromineral element levels was found at all levels of ozone exposure; however, levels of trace elements (zinc, iron, and copper) and methionine increased significantly with an increase in ambient ozone concentration. Responses to the same levels of ozone were different for the three corn genotypes.