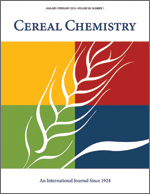 Cereal Chem 60:396 - 399. | VIEW ARTICLE
Model Studies of Cake Baking. III. Effects of Silicone on Foam Stability of Cake Batter.

M. Mizukoshi. Copyright 1983 by the American Association of Cereal Chemists, Inc.

Batter expansion, starch gelatinization, protein coagulation, and cake crumb structure from cake batters containing 0.5-10 ppm of silicone were observed during actual and model baking. Silicone in batters tended to cause poor batter expansion, small cake volume, a gummy layer, bottom rise, coarse grain, and a ringlike pattern on the cake. Starch gelatinization and protein coagulation were not affected by silicone dosage. These phenomena were interpreted as indications of a lack of foam stability of cake batter during baking.