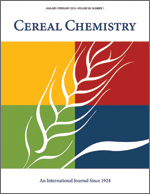 Cereal Chem 60:399 - 402. | VIEW ARTICLE
Model Studies of Cake Baking. IV. Foam Drainage in Cake Batter.

M. Mizukoshi. Copyright 1983 by the American Association of Cereal Chemists, Inc.

Effects of temperature, viscosity, and silicone on foam drainage in cake batter were measured. A foam drainage test is described. The rate of drainage was proportional to the volume of undrained liquid in the foam. Drainage increased with increasing temperature up to 60 C, then decreased at 65 C. At temperatures from 40 to 55 C, the rate of drainage was in good agreement with the Arrhenius equation. Drainage rate was influenced by cake batter viscosity. A good relationship was observed between drainage rate in cake batter and formation of a gummy layer in cakes.