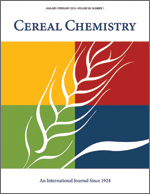 Cereal Chem 60:403 - 405. | VIEW ARTICLE
Detection of Phosphorus on Starch by Atomic Absorption and the Graphite Furnace.

M. L. Hogen. Copyright 1983 by the American Association of Cereal Chemists, Inc.

A new application for Graphite Furnace Atomic Absorption (GFAA) was developed for the detection of phosphorus added to starch, and for that which occurs naturally in starch. An unmodified cornstarch and a modified corn and potato starch, in both a dry and a pasted state, were analyzed for phosphorus, using GFAA. The phosphorus values obtained by GFAA compare well with amounts known to be added to the starches. The most significant advantage in using GFAA rather than colorimetry is that the starch does not have to be digested with perchloric acid to convert the various phosphate forms to orthophosphate. The starch samples are simply acid-hydrolyzed (4N hydrochloric acid), then 0.2% nickel is added, instead of the commonly suggested 1-2% lanthanum, to stabilize the phosphorus during heating. Nickel gives equal sensitivity at a lesser cost, and longer graphite tube life than lanthanum.