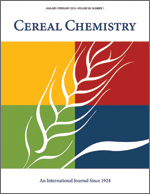 Cereal Chem 60:411 - 413. | VIEW ARTICLE
Selective Derivatization and High Performance Liquid Chromatographic Analysis of Free Fatty Acids in Lipid Extracts.

T. N. Tweeten and D. L. Wetzel. Copyright 1983 by the American Association of Cereal Chemists, Inc.

A procedure is reported for the determination of low levels of the free fatty acids only in cereal grain lipid extracts. High performance liquid chromatography was used for the analysis. Individual free fatty acids in the presence of the esterified form (fatty acid glycerides) were selectively derivatized under controlled conditions using p-bromophenacylbromide. The free fatty acid derivatives were chromatographed on a reversed phase octylsilane bonded-phase column with water and acetonitrile/tetrahydrofuran. When the procedure was applied to lipid extracts from oat samples, free fatty acid composition as milligrams of oleic acid per milligram of lipid extract ranged from 2.89 to 4.11%.