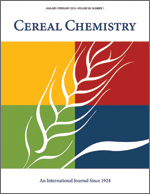 Cereal Chem 60:418 - 420. | VIEW ARTICLE
Effect of Germination on Oats and Oat Protein.

Y. V. Wu. Copyright 1983 by the American Association of Cereal Chemists, Inc.

Lysine content of germinated oats increased after eight days, from 4.4 to 5.3 g per 16 g of nitrogen. Increases in nonprotein nitrogen, albumin, and residue nitrogen (all rich in lysine) and decreases in globulin and prolamin (poor in lysine) accompanied sprouting. The percent nitrogen in oats germinated for three days or longer was greater than that in the initial grain as a result of dry matter loss in the grain during germination, but the absolute amount of nitrogen per kernel was decreased.