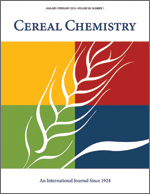 Cereal Chem 60:56 - 58. | VIEW ARTICLE
Use of Date Syrups in Breadmaking.

A. H. Al-Zubaydi, A. A. Al-Kaissi, K. A. Shaker, and S. M. Hamel. Copyright 1983 by the American Association of Cereal Chemists, Inc.

The effect of various date syrups on experimental breads was studied with the straight dough procedure. Date syrups were found to cause a substantial increase in the weight and volume of loaves. They also improved the texture of the finished bread. When date syrups were substituted for sucrose in the bread formula, the crumb characteristics became inferior with increasing concentrations of date syrups. These characteristics included color, aroma, taste, and mastication. Compared to the control treatment, however, which employed no sugar source in the formula, the date-syrup treatment showed improvement in all characteristics except crumb color, which was adversely affected by all types of date syrups.