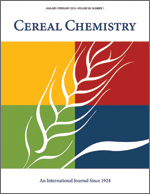 Cereal Chem 60:424 - 426. | VIEW ARTICLE
Tannins and Phytate Content in Proso Millets (Panicum miliaceum).

K. Lorenz. Copyright 1983 by the American Association of Cereal Chemists, Inc.

Phytate and tannin contents of 24 proso millets (Panicum miliaceum) were determined. Phytate content ranged from 0.17 to 0.47% and tannins from 0.055 to 0.178% catechin equivalents. Dark-colored seeds had higher tannin contents than light-colored seeds. Dehulling of the seeds greatly reduced the levels of phytate and tannin.