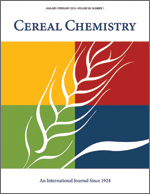 Cereal Chem 60:427 - 429. | VIEW ARTICLE
Interaction of a Purified Bean (Phaseolus vulgaris) Glycoprotein with an Insect Amylase.

J. R. Powers and J. D. Culbertson. Copyright 1983 by the American Association of Cereal Chemists, Inc.

A glycoprotein alpha-amylase inhibitor from red kidney bean was purified by affinity chromatography, and its in vitro interaction with an amylase from Tenebrio molitor larvae was studied. Inhibition of the amylase by bean amylase inhibitor is dependent on pH, ionic strength, and temperature. The rate of combination of the amylase was 2.7 x 10(5) per mole per second at pH 5.4 and 30 C.