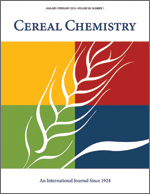 Cereal Chem 60:438 - 442. | VIEW ARTICLE
Molecular Weight and Charge Heterogeneity of Prolamins (Avenins) from Nine Oat (Avena sativa L.) Cultivars of Different Protein Content and from Developing Seeds.

L. S. Robert, C. Nozzolillo, and I. Altosaar. Copyright 1983 by the American Association of Cereal Chemists, Inc.

Alcohol-soluble proteins (avenins) were extracted with 52% (v/v) ethanol (24 C) or 55% (v/v) isopropanol, 2.0% 2-mercaptoethanol (60 C) from mature seeds of nine oat (Avena sativa L.) cultivars ranging in total protein content from 11.9 to 19.1%. These fractions were analyzed by sodium dodecylsulfate- polyacrylamide gel electrophoresis (SDS-PAGE), isoelectric focusing (IEF), and two-dimensional analysis (IEF and SDS-PAGE). More of the major avenins were extracted with the isopropanol-mercaptoethanol mixture than with ethanol. They possessed molecular weights from 22,000 to 43,000 and pIs between pH 4.5 and 8.0. A significant degree of avenin heterogeneity existed, although variations in polypeptide patterns did not appear to correlate with differences in total seed protein content. Major avenin accumulation during seed development does not occur until two weeks after anthesis. Avenin components varied in rate and in order of appearance within the first four weeks following anthesis.