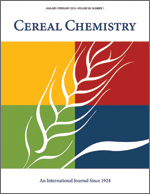 Cereal Chem 60:450 - 455. | VIEW ARTICLE
Evaluation of Variation in Mineral Element Concentrations in Wheat Flour and Bran of Different Cultivars.

C. J. Peterson, V. A. Johnson, and P. J. Mattern. Copyright 1983 by the American Association of Cereal Chemists, Inc.

Flour and bran samples obtained from replicated trials of 27 varieties in the 12th International Winter Wheat Performance Nursery at six locations were analyzed, by energy-dispersive X-ray spectrometry, for concentrations of Mg, P, S, Cl, K, Ca, Mn, Fe, Cu, and Zn. Results indicated that the variation in these mineral element concentrations among genotypes is significant and stable, and may be as large as or larger than variation produced by environmental factors. Mineral element concentrations in flour generally show high, positive genetic correlation with protein content, indicating an added nutritional advantage of high- protein cultivars.